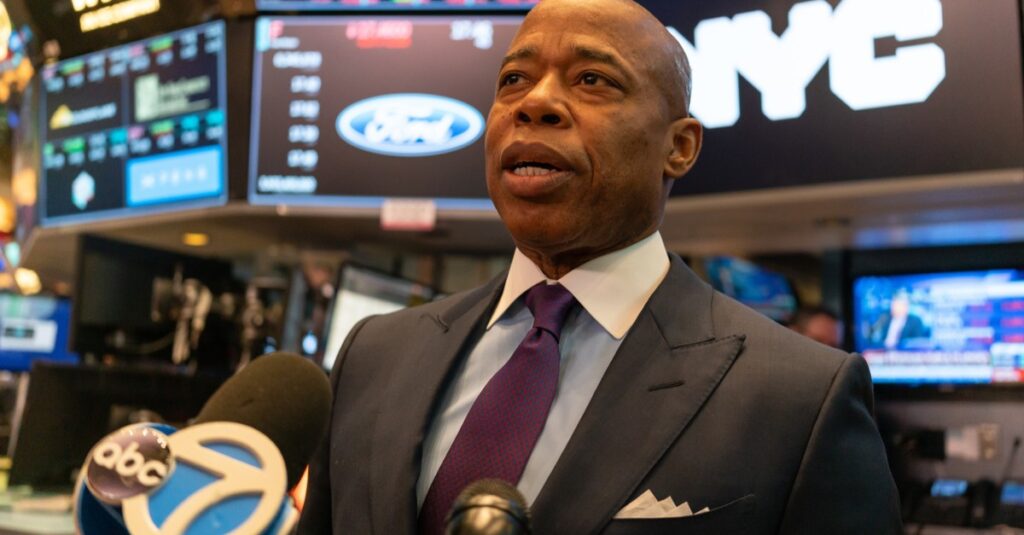 New York City, NY USA February 28, 2022. Mayor Adams rings the opening bell at the New York Stock Exchange on the last day of Black History Month. (Shutterstock)
NEW YORK – New York City Mayor Eric Adams today announced an agreement with Berkeley College that will deliver $20 million in debt relief to former students of one of the largest for-profit colleges in New York state. The agreement stems from a 2018 lawsuit filed by the New York City Department of Consumer and Worker Protection (DCWP), which asserted that, to generate revenue, Berkeley engaged in aggressive recruiting tactics designed to prey on the hopes and dreams of consumers seeking improved career prospects and greater financial security.
"Education is key to economic mobility, so the last thing students need is to be deceived by the educational institutions they are trusting to help improve their lives," said Mayor Eric Adams. "For years, Berkeley College preyed on students just to pad their bottom line. I'm proud of our team at the Department of Consumer and Worker Protection for 'Getting Stuff Done' for Berkeley students and delivering them $20 million in debt relief. Our city will remain vigilant against all those who seek to take advantage of New Yorkers simply trying to better care for themselves and their families."
"From aggressive recruiting tactics to tricking students into debt, Berkeley College engaged in serious deception that harmed working class students hoping to gain an education," said Deputy Mayor for Economic and Workforce Development Maria Torres-Springer. "Thanks to the steadfast commitment of the Department of Consumer and Worker Protection, Berkeley students are getting some much-needed relief."
"For-profit colleges are businesses, and, like most businesses, their top priority is generating profits," said DCWP Commissioner Vilda Vera Mayuga. "But this case sends a strong message to Berkeley and other for-profit schools that New York City will not tolerate practices that prey on the hopes and dreams of New Yorkers and bury them in student loan debt. We look forward to bringing this relief and change in practices to Berkeley's students."
"The Office of Administrative Trials and Hearings'(OATH) Center for Creative Conflict Resolution serves as the city's central mediation and alternative dispute resolution resource," said Commissioner of the NYC Office of Administrative Trials and Hearings Joni Kletter. "After the parties approached the center seeking assistance, the center's Executive Director Ray Kramer successfully mediated this legal action after working with the parties for more than six months.  Mediation is a powerful tool to resolve conflicts between parties and in this case it also served to save the city time and money in litigation,"
This agreement, reached after multiple mediation sessions with OATH's Center for Creative Conflict Resolution, stems from a lawsuit filed by the DCWP in 2018 after it conducted dozens of interviews with current, prospective, and former students; several undercover operations; and review of thousands of pages of documentation from Berkeley.
In its lawsuit, DCWP alleged that Berkeley's deception included:
Lying about federal student loans;
Tricking students into taking out loans directly from Berkeley;
Deceiving students about institutional grants;
Falsely disparaging competitors;
Deceiving students about transfer credits, majors, and careers;
Concealing costs from students until it is too late for them to withdraw;
Collecting debt that was not owed;
Lying on court filings about when debt accrued;
Concealing its identity from former students when collecting debt;
Lying to former students about legal judgments; and
Deceiving former students about re-enrollment.
The settlement — which has been approved by the New York County State Supreme Court —requires Berkeley to:
Cease collection on any outstanding debt that was incurred before January 1, 2019, which, collectively, Berkeley estimates is valued at $20 million;
Pay $350,000 to the city, which DCWP plans to use to pay restitution to impacted consumers;
Produce a random sample of recorded admissions interviews to DCWP on a monthly basis for two years to review for material misstatements; and
Institute policies related to 1) admissions interviews and financial aid counseling for incoming and enrolled students, 2) notifying students about transfer credits and financial aid issues, 3) communicating with students about debt owed to Berkeley, and 4) making sure statutes of limitation on debt collection are observed.
DCWP will also be referring those receiving restitution to DCWP's New York City Financial Empowerment Centers, where they can meet one-on-one with financial counselors. Berkeley College is one of the largest for-profit colleges in New York State with approximately 4,000 enrolled students. Those who were students at Berkeley prior to January 1, 2019 and have questions about the terms of this settlement or whether it applies to them should contact DCWP.
Enforcement is one prong of DCWP's efforts to help New Yorkers struggling with student loan debt, which also include education and advocacy. DCWP has released a series of seven reports about student loans that includes where borrowers live, who is most negatively impacted by student loans, and the impact that student loans have on borrowers' lives. To help student loan borrowers understand how COVID-19 pandemic relief impacts their loans, DCWP created Important Information for Student Loan Holders: Automatic Payment Suspension and Other Relief During COVID-19. Under the Coronavirus Aid, Relief, and Economic Security (CARES) Act, federal student loan payments are currently suspended, without interest or penalties, until May 1, 2022. DCWP encourages New York borrowers to visit a New York City Financial Empowerment Center to discuss their options if their financial situation has changed and/or they are unable to afford payments. Counselors can help borrowers enroll in an Income-Driven Repayment (IDR) plan if eligible, which tends to offer payments that are more affordable than the standard repayment plan. To schedule an appointment or to download tips on how to avoid student loan debt distress, borrowers can visit nyc.gov/StudentLoans.
"Predatory for-profit schools like Berkeley College exploit hard-working New Yorkers turning their dreams into debt," said U.S. Senator Charles E. Schumer. "I am pleased to see the Adams administration take this decisive step to curb these practices and deliver debt relief to students. I will keep pushing President Biden to enact broad-based debt cancellation through executive action that will help all New Yorkers faced with the crushing burdens of student debt."
"Those who seek higher education should be safe from predatory practices, and we must protect all students from illegal recruiting and financing tactics, especially in the face of a national student debt crisis," said U.S. Representative Adriano Espaillat. "I am proud to see the justice system hold bad actors accountable — today's settlement announcement is justice served and places people over profits. I commend  New York City Mayor Adams and the Department of Consumer and Worker Protection on this announcement to ensure protections for impacted students at Berkeley College."
"Achieving a higher education gets more and more expensive every single year, often at the expense of working-class and first-generation students who must obtain student loans to receive an education," said U.S. Representative Jamaal Bowman. "I am hopeful that the outcome of this settlement will send a strong message to all colleges across New York and the nation. We will no longer accept or allow our students to be preyed upon by higher institutions and predatory lenders and we will no longer allow our students to be saddled with unfair and unjust loans with exorbitantly high interest rates. I will continue advocating for both the president to use his executive authority and to cancel all student loan debt so that those buried under piles of student loans can start their families, buy homes, and pursue their dreams. This brings us one step closer to achieving justice in our education system, protecting all students, and providing them with the opportunity to participate actively and freely in our society and economy."
"New York students deserve access to a quality education that delivers on its promises," said New York State Senator Kevin Thomas, chair, Committee on Consumer Protection. "At a time when student debt is soaring, it is unacceptable that schools like Berkeley are using deceptive and unlawful practices to take advantage of consumers seeking a better life. I applaud Mayor Adams and the DCWP for holding Berkeley accountable, and look forward to deepening our efforts to ease the burden on New Yorkers struggling with student debt."
"New York students deserve a college education that does not take advantage of them and burying them in deceptive student loans," said New York State Assemblymember Nily Rozic. "We must continue to crack down on bad actors who prey on vulnerable students with false promises."
"I'm pleased to see that students will be reimbursed after the misleading and deceptive practices of Berkeley College. This behavior is exactly why for-profit colleges have poor reputations," said New York City Councilmember Marjorie Velázquez, chair, Committee on Consumer Affairs and Worker Protection. "People intent on bettering themselves through education should not be hindered or deprived by companies solely concerned with profiting. I'm confident that under the leadership of DCWP Commissioner Vilda Vera Mayuga we will continue to see this kind of accountability and safeguarding of consumers."
"This case with Berkeley College is a prime example of what happens when you prioritize profit over people," said New York City Councilmember Eric Dinowitz. "I commend the DCWP for their tireless work to protect our students from these kind of predatory practices, which are not only wrong, but have actually caused harm to the lives of Berkley students. As the chair of the Committee on Higher Education on the New York City Council, I staunchly believe our students not only deserve access to the best possible education, but also deserve not to be pawns in acquisitive schemes by the institutions they put their trust in. I stand with Mayor Adams in letting this serve as a message to other for-profit schools: The City of New York will not condone this exploitative behavior."
"For-profit colleges are often expensive and largely unhelpful to students seeking advancement — closing more doors than they open," said Johnson Tyler, senior consumer attorney, Legal Services NYC. "We applaud the New York City Department of Consumer and Worker Protection for its tremendous work in eliminating such a large amount of debt from this predatory school and join them in the fight to protect and support consumers who fall victim to these deceptive practices."
"NYLAG works with many clients who have been financially and emotionally devastated by the deceptive practices of Berkely College and other for-profit colleges," said Beth Goldman, president & attorney-in-charge, New York Legal Assistance Group (NYLAG). "This settlement will provide much needed relief to students defrauded by Berkely College and will send a strong message to other predatory for-profit colleges that their exploitative behavior will not be tolerated. Thank you to DCWP for their thorough investigation and litigation that brought about this significant result."
"DCWP is leading the fight to curb for-profit school abuses in New York City," said Mike Pierce, executive director, Student Borrower Protection Center. "Predatory schools have long held out the promise of higher education but often leave students trapped in debt and with limited opportunities for economic mobility. Today's settlement holds Berkeley College accountable for its exploitative enrollment schemes and will cancel tens of millions of dollars in student debt, providing relief to many of the most economically vulnerable New Yorkers."