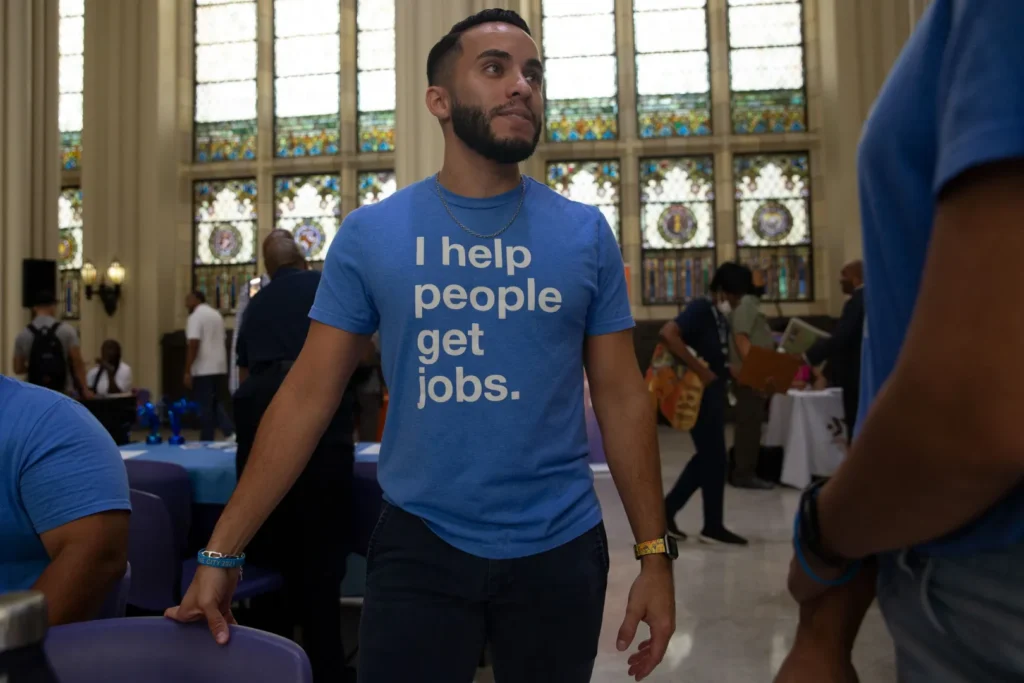 Recruiters speak with people seeking employment at a City College job fair last year.
BY Greg David and Suhail Bhat | MAY 18, 2023
Cash assistance and other public benefits are helping more New Yorkers weather an economic climate that's still tough.
In a worrisome sign, New York City lost 5,000 jobs in April on a seasonally adjusted basis, at the same time the nation continued to add jobs at a surprisingly strong pace despite the efforts of the Federal Reserve Board to slow the economy by raising interest rates.
While month-to-month figures can be volatile, the city averaged a monthly gain this year of only 5,600, only about half the gain needed to meet the city's official forecast of an employment gain of 92,000 in 2023.
Forecast Trends Upward
Although its jobs forecast for 2023 is in doubt and a recession may be in store later this year,  the official economic forecast from the administration of Mayor Eric Adams shows solid growth extending out to 2028 with an average annual increase of 1.6%, or 78,000 jobs, and ending up with almost 5 million jobs.
Unemployment Uptick
The city's unemployment rate ticked up to 5.4%. By comparison, the national rate is 3.4%, and matched the level in January, which was the lowest since 1969.
The unemployment rate for Black workers was still in double digits, at 12.5% as of last month, according to THE CITY's analysis of Current Population Survey census data. The rate for Hispanic workers was 7.1%, and for Asian workers, 5.4%. The numbers were averaged over a three-month period and were not adjusted for seasonal variations.
One group that is seeing improved employment prospects is young men aged 16 to 24, who previously saw jobless rates approaching 25% a year ago. This April, the rate was 17.2%. Meanwhile, young women in the same age bracket are having a tougher time finding work, with 15% of them unemployed, up from 11% a year ago.
Safety Net Swells
The pandemic and modest economic recovery has led to a sharp rise in the number of New Yorkers using the major safety net programs, according to new data from James Parrott, economist at the Center for New York City Affairs. The number of people receiving cash assistance is closing in on 500,000, a 47% increase over the number when the pandemic began in early 2020. The number of people getting SNAP benefits to pay for food has reached 1.8 million, up 21%.
About half the city's population, or 4.4 million people, are on Medicaid, about 1 million more than in early 2020.
This story was published on May 18, 2023 by THE CITY.